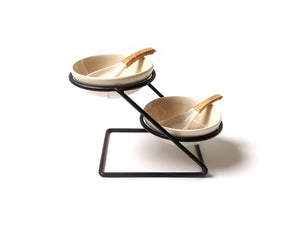 A thoughtfully-designed serving accessory, the 2-tier seasoning stand is both stylish and space-efficient. Two little ceramic bowls with miniature spoons can be used to serve dry seasonings or pickles with any meal. The pearlish white color makes for a timeless accessory for your table that will never go out of style.

Material
Ceramic, Iron & Cane

Dimension :
16 cm x 10 cm x 10 cm
Bowl Size: 8.5 cm x 8.5 cm x 3 cm
Spoon Size: 9 cm

Care Instruction :
Ceramics are dishwasher and microwave safe. Rinse the iron stand with a mild detergent and wipe dry.