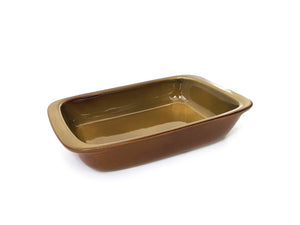 The perfect size for a family meal or serveware for your home party, this thick ceramic pan is designed to keep food warm for longer durations, making it the ideal dish for baking anything from lasagna, to cinnamon rolls, to roasted meats. The Roasting Pan in Amber-Olive comes in two different sizes - Small and Large. The warm, earthy colors of the Roasting Pan are sure to stand out in your range of serveware. What's more - this pan is both oven and microwave-friendly!

Material
Ceramic

Dimension :
26 cm x 15.5 cm x 4.5 cm

Care Instruction :
Ceramics are dishwasher and microwave safe.