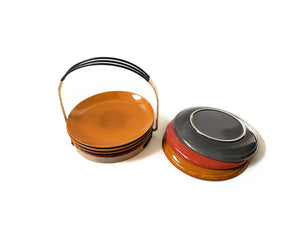 This set of 6 charming dessert plates is uniquely crafted in dual-tones and makes for a great addition to your dinnerware. With an Amber hue on top, these plates are tinged with three pristine natural colors - Burnt Orange, Mustard, Olive-Grey - on the other side. The subtlety of the dual colored plates immediately reminds one of nature landscapes. Accompanied with a wood and iron stand, this set of Dessert Plates is both easy to store and carry. It can comfortably sit anywhere in your dining room or TV lounge, ready for use. Our collection of Sylvan Dessert Plates are perfect for high tea and desserts, and will surely make for a colorful spread!

Material
Ceramic, Iron, Mango Wood & Cane

Dimension :
14.5 cm x 14.5 cm x 19 cm
Plate Size: 14 cm dia.

Care Instruction :
Ceramics are dishwasher and microwave safe. Wipe the iron and wood stand with a soft damp cloth.