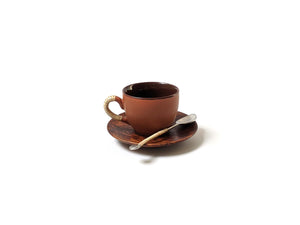 A dual-tone cappuccino cup in Teracotta-Brown, this cup is also adorned with a charming cane-detailed handle for a better, more firm grip. Each cup comes with its own sheesham wood saucer, with a neat recess for the cup to settle into, as well as a spoon detailed with cane to match the cup handle. Both light and comfortable to hold, this set is a classic addition to your range of cups and will never go out of style.

Material
Ceramic, Sheesham Wood & Cane

Dimension :
11 cm x 8 cm x 6 cm
Plate Size: 13 cm dia. 110 ml

Care Instruction :
Ceramics are dishwasher and microwave safe. Wipe the wooden tray with a soft damp cloth.